The Sustainable Development Goals in Rwanda
The Sustainable Development Goals are a global call to action to end poverty, protect the earth's environment and climate, and ensure that people everywhere can enjoy peace and prosperity. These are the goals the UN is working on in Rwanda:
Story
22 December 2022
TIME-SAVING EFFICIENT KITS TO REDUCE DOMESTIC CARE WORK FOR RURAL WOMEN
According to a recent baseline study by UN Women Rwanda on unpaid care work in eight districts, on average women work for around 4.1 hours per day compared to men who on average do approximately 1.7 hours on unpaid care and domestic work, particularly those in areas with limited access to regular basic services such as energy, water, and sanitation. To reduce the care demands on women, UN Women through the UN Women's 3R (Recognize, Reduce, and Redistribute) project on unpaid care work in partnership with Rwanda Development Organisation (RDO), and Institut Africain pour le Development Economique et Social (INADES), distributed energy-efficient kits to over 300 households in Musanze District and 472 households in Rubavu district. This is meant to empower women by removing impediments to their economic empowerment. The kits included improved cooking stoves known as Save80, which saves up to 80% more energy than the normal charcoal stoves using small wood sticks as fuel for cooking. It will save cooking time for women who were already spending countless hours on household chores. Other kits include heat retention cookers, sprayers, watertanks, harvesting crates, and tri-motor cycles. Beneficiaries of the energy-saving kits include those living with disabilities in vegetable production in Rubavu district, of which, 80% are women in cross-border trade. Marie Louise Mukamanzi, a mother of seven, was very happy to receive the energy-efficient stove which includes a heat retention flask known as a 'wonderbox' that keeps the food warm for her children when they return from school. "I am happy to receive the stove because it will reduce my time to warm food and the long hours I spend looking for firewood and cooking," said Mukamanzi. UN Women Country Representative, Ms. Jennet Kem appreciated UN partners and the Government of Rwanda for their unwavering support. "We hope the kits will be used to improve your wellbeing. I encourage you to work together, save, invest, and do awareness raising to encourage other community members to join cooperatives for collective gains," said Ms. Kem.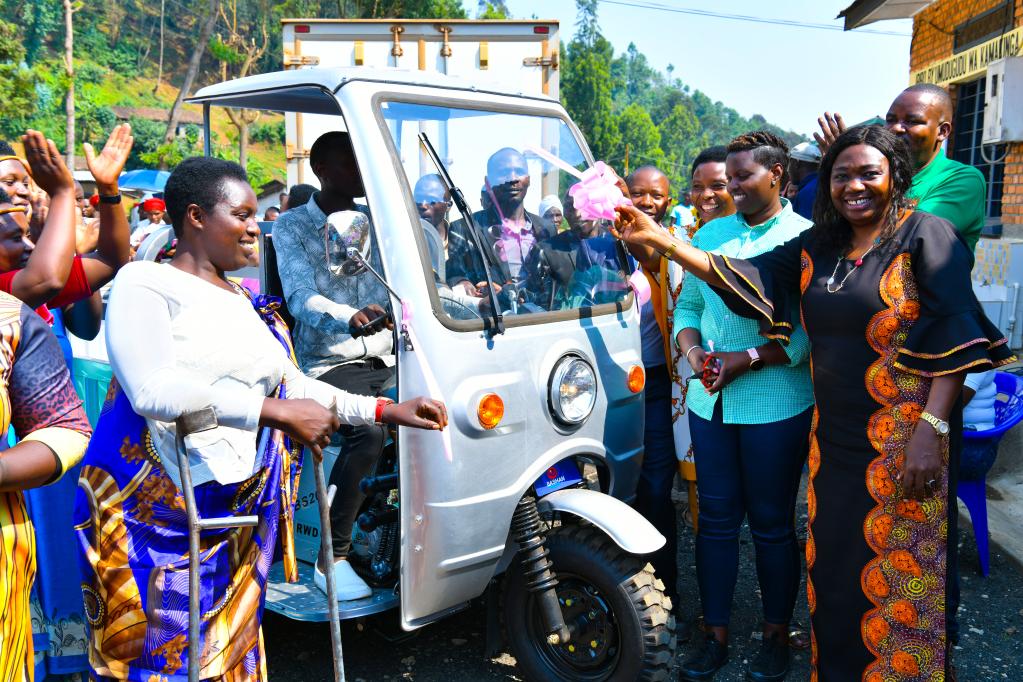 Story
22 December 2022
STRENGTHENING COMMUNITY BASED RESPONSES TO HIV SERVICES FOR KEY AND VULNERABLE POPULATION
In collaboration with the GoR and UNAIDS, Ihorere Munyarwanda Organisation (IMRO-Rwanda), a local NGO has reached and linked key populations (KPs) namely; Female Sex workers (FSW), men who have sex with other men (MSM), their children and clients, with health facilities in Kigali (Gasabo, Kicukiro, Nyarugenge), Muhanga, Ruhango, Nyamasheke and Rubavu Districts in Rwanda. So far, 115,000 KPs and young people in the 7 Districts have been reached since 2018. They have been reached through awareness campaigns, linked to VCT, enrolled onto Anti-Retroviral Treatment and screened for STIs and treatment. In the same period, 360,000 condoms and lubricants have been distributed to KPs and their clients. Also, 12,000 (7,591 FSWs, 1,001 clients of FSWs 3,000 children born to FSWs and 407 MSM) have been reached through peer education and services related to gender-based violence, stigma and discrimination. They have also benefitted from HIV prevention programs in line with the National strategic plan on HIV/AIDS. Both FSWs, children born to FSWs and MSMs and their clients were referred to 26 health Facilities to access health and HIV services through peer education programs, 320 beneficiaries from most vulnerable poor families were supported to access community health-based insurance to reduce financial barriers to adequate health care and services. In addition, 360 FSWs were eligible and enrolled for PReP and 800 FSWs as well as 18 MSMs were vaccinated for Hepatitis. 9 SGBV cases in Rubavu, Muhanga, Ruhango & Nyamasheke Districts were also referred to Isange One Stop Centers under the IMRO program. In Rusizi, Musanze, Nyarugenge, Muhanga and Rubavu 2,459 pregnant FSWs were supported to acces SRH/Family Planning, PMTCT services. They were also given hygiene and SRHR commodities. The support also reached local law enforcement authorities and health care providers, who learned about the comprehensive advocacy for the rights of KPs. 275 women and youth in Gasabo, Nyarugenge and Rubavu Districts were equipped and supported with Life Skills and 675 KPs (75 MSM and 600 FSWs) were supported with Economic Empowerment through the Group Saving and Loan Association (GSLA) Program. All these interventions contribute to reducing their vulnerability to HIV and increases their power of negotiation for protected Sex. Such deliberate interventions are vital to continue advocating for a conducive and enabling environment to equitable and high quality health access to HIV services for Key and Vulnerable Population in Rwanda.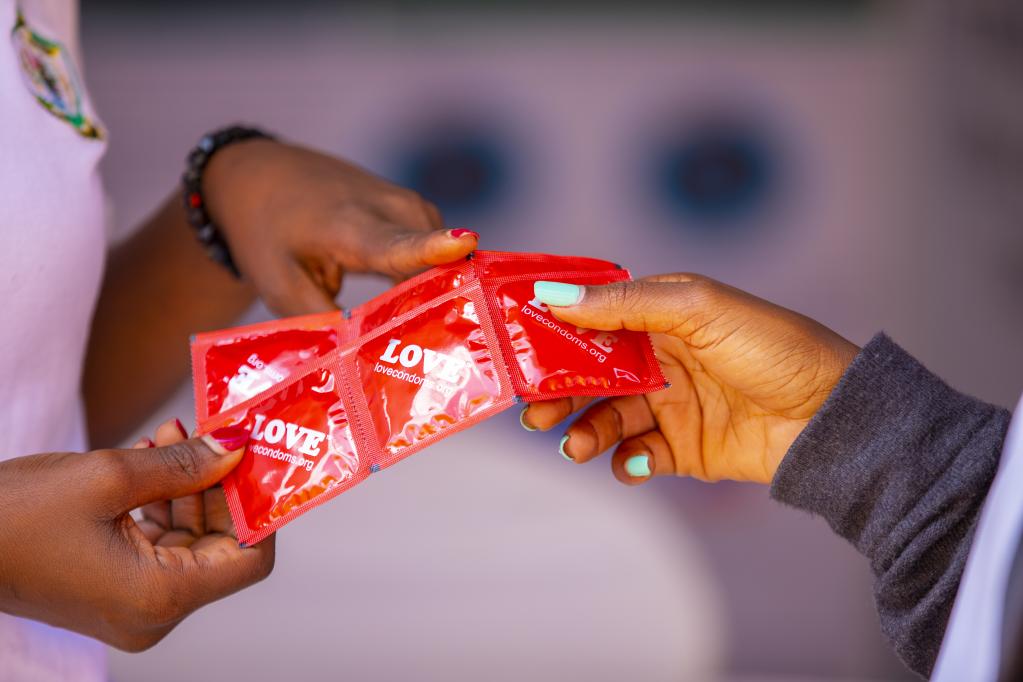 Story
22 December 2022
BUILDING ASSETS FOR SUSTAINABLE FOOD SECURITY IN RWANDA
As part of a holistic package of support under the United Nations Joint Programme on Social Protection, WFP together with GoR supported the construction of terraces on 25 hectares of land in Nyamagabe and Rutsiro districts. The two districts are prone to regular landslides and soil erosion, which has often discouraged smallholder farmers from cultivating the land, resulting in a worsening household poverty and food insecurity. After the terrace construction, the communities attested to increased harvests, which has in turn boosted their economic empowerment. "Potato harvests on the terraced land increased enormously. From less than 200kgs to 21 metric tonnes per hectare. We are now gaining so much from our produce; our livelihoods have improved as a result". Said Consolette Ahwishyize. Consolette, a 45-year-old mother of 5, in Gitwe village of Rutsiro district is one of the farmers that was always in distress, during rainy seasons, as the running water used to wash away the topsoil, crops, and fertilizer. She commends the terraces for conserving the soil, preventing erosion and increasing the productivity of the land. The program also provided agriculture inputs, including pesticides, lime to improve soil fertility, and hybrid potato seeds worth nearly RWF 68 million. The support has not only remedied challenges farmers faced, rather also enabled the farmers to respond to the increasing food demand in the area and beyond. Today, the farmers have embraced modern techniques of farming and they are employing fellow community members on their farm lands, from which the positive ripple effects are felt especially among the vulnerable households. The Joint Programme in line with the country's efforts for integrated social protection to end poverty in all its forms while ensuring no one is left behind. It is implemented by the World Food Programme, the Food and Agriculture Organization (FAO), the United Nations Children's Fund (UNICEF) and the local governments in Rutsiro, Nyamagabe, Karongi, Kirehe and Burera districts.