The Sustainable Development Goals in Rwanda
The Sustainable Development Goals are a global call to action to end poverty, protect the earth's environment and climate, and ensure that people everywhere can enjoy peace and prosperity. These are the goals the UN is working on in Rwanda:
Story
22 December 2022
TIME-SAVING EFFICIENT KITS TO REDUCE DOMESTIC CARE WORK FOR RURAL WOMEN
According to a recent baseline study by UN Women Rwanda on unpaid care work in eight districts, on average women work for around 4.1 hours per day compared to men who on average do approximately 1.7 hours on unpaid care and domestic work, particularly those in areas with limited access to regular basic services such as energy, water, and sanitation. To reduce the care demands on women, UN Women through the UN Women's 3R (Recognize, Reduce, and Redistribute) project on unpaid care work in partnership with Rwanda Development Organisation (RDO), and Institut Africain pour le Development Economique et Social (INADES), distributed energy-efficient kits to over 300 households in Musanze District and 472 households in Rubavu district. This is meant to empower women by removing impediments to their economic empowerment. The kits included improved cooking stoves known as Save80, which saves up to 80% more energy than the normal charcoal stoves using small wood sticks as fuel for cooking. It will save cooking time for women who were already spending countless hours on household chores. Other kits include heat retention cookers, sprayers, watertanks, harvesting crates, and tri-motor cycles. Beneficiaries of the energy-saving kits include those living with disabilities in vegetable production in Rubavu district, of which, 80% are women in cross-border trade. Marie Louise Mukamanzi, a mother of seven, was very happy to receive the energy-efficient stove which includes a heat retention flask known as a 'wonderbox' that keeps the food warm for her children when they return from school. "I am happy to receive the stove because it will reduce my time to warm food and the long hours I spend looking for firewood and cooking," said Mukamanzi. UN Women Country Representative, Ms. Jennet Kem appreciated UN partners and the Government of Rwanda for their unwavering support. "We hope the kits will be used to improve your wellbeing. I encourage you to work together, save, invest, and do awareness raising to encourage other community members to join cooperatives for collective gains," said Ms. Kem.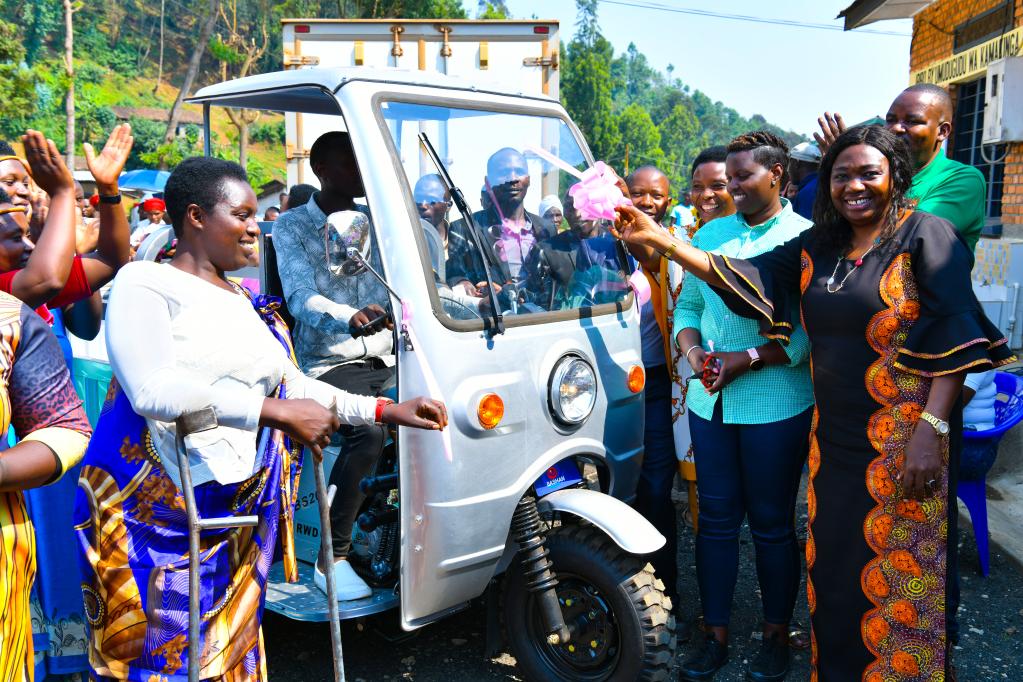 Story
22 December 2022
STRENGTHENING COMMUNITY BASED RESPONSES TO HIV SERVICES FOR KEY AND VULNERABLE POPULATION
In collaboration with the GoR and UNAIDS, Ihorere Munyarwanda Organisation (IMRO-Rwanda), a local NGO has reached and linked key populations (KPs) namely; Female Sex workers (FSW), men who have sex with other men (MSM), their children and clients, with health facilities in Kigali (Gasabo, Kicukiro, Nyarugenge), Muhanga, Ruhango, Nyamasheke and Rubavu Districts in Rwanda. So far, 115,000 KPs and young people in the 7 Districts have been reached since 2018. They have been reached through awareness campaigns, linked to VCT, enrolled onto Anti-Retroviral Treatment and screened for STIs and treatment. In the same period, 360,000 condoms and lubricants have been distributed to KPs and their clients. Also, 12,000 (7,591 FSWs, 1,001 clients of FSWs 3,000 children born to FSWs and 407 MSM) have been reached through peer education and services related to gender-based violence, stigma and discrimination. They have also benefitted from HIV prevention programs in line with the National strategic plan on HIV/AIDS. Both FSWs, children born to FSWs and MSMs and their clients were referred to 26 health Facilities to access health and HIV services through peer education programs, 320 beneficiaries from most vulnerable poor families were supported to access community health-based insurance to reduce financial barriers to adequate health care and services. In addition, 360 FSWs were eligible and enrolled for PReP and 800 FSWs as well as 18 MSMs were vaccinated for Hepatitis. 9 SGBV cases in Rubavu, Muhanga, Ruhango & Nyamasheke Districts were also referred to Isange One Stop Centers under the IMRO program. In Rusizi, Musanze, Nyarugenge, Muhanga and Rubavu 2,459 pregnant FSWs were supported to acces SRH/Family Planning, PMTCT services. They were also given hygiene and SRHR commodities. The support also reached local law enforcement authorities and health care providers, who learned about the comprehensive advocacy for the rights of KPs. 275 women and youth in Gasabo, Nyarugenge and Rubavu Districts were equipped and supported with Life Skills and 675 KPs (75 MSM and 600 FSWs) were supported with Economic Empowerment through the Group Saving and Loan Association (GSLA) Program. All these interventions contribute to reducing their vulnerability to HIV and increases their power of negotiation for protected Sex. Such deliberate interventions are vital to continue advocating for a conducive and enabling environment to equitable and high quality health access to HIV services for Key and Vulnerable Population in Rwanda.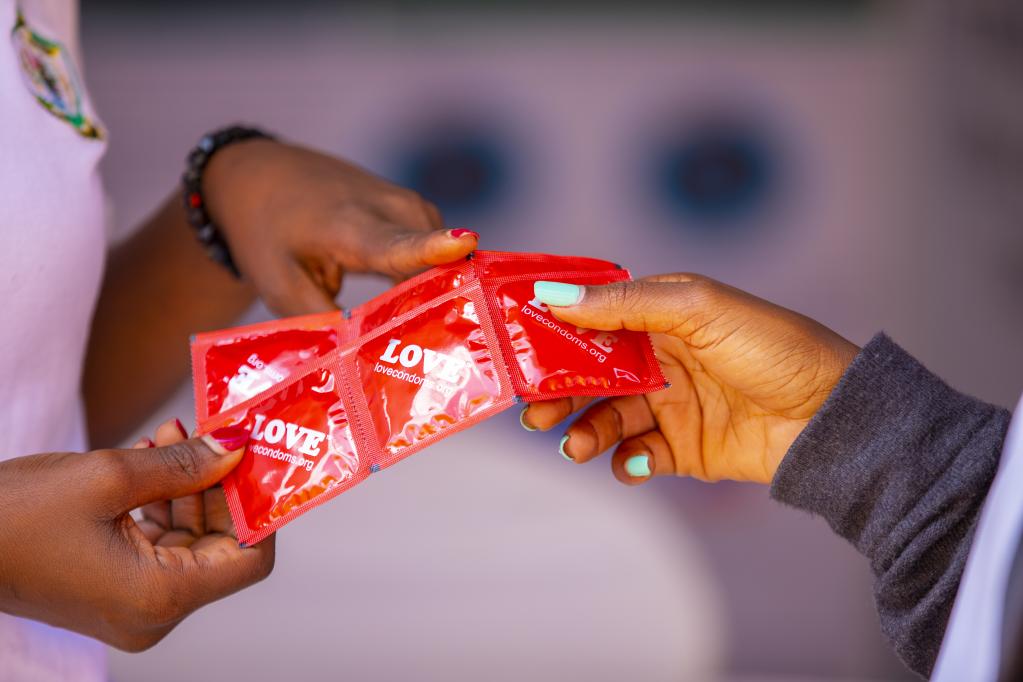 Story
30 May 2023
From a job seeker to a job creator: Thanks to the joint programme that enabled Nizeyiman to blossom.
When Noel Nizeyimana was about to complete his university degree at the National University of Rwanda, one of the key lingering issues in his mind was whether he would secure a job to move his life forward. Little did he know that he would end up spending a considerable amount of time walking the streets, knocking on various doors in both public and private institutions, submitting his job applications. Indeed, the soil and environmental science graduate sent out quite a number of job applications; unfortunately, he couldn't secure any opportunities. He had numerous ambitions and future plans, but as he gazed at the sky, he couldn't help but feel dejected, witnessing his aspirations evaporating. After his job search dreams failed, Nizeyimana decided to draft a project proposal with the intention of starting his own company. That's when he reconnected with three other colleagues whom he had previously studied with at the university and Immediately, GreenCare Rwanda Ltd was born. Fortunately, their proposal was approved, making them one of the recipients of funds from the UN Youth Joint Programme implemented jointly by UNDP, FAO, UNFPA, UNICEF, UN Women, and WHO. The company has thus far secured Rwf32 Million as a great innovator from various organizations, including UNDP under the youth connect initiative, and is currently in negotiations to collaborate with the World Food Programme. The young company has invested in an Integrated Waste Management Solution to process waste products into organic fertilizers for agricultural activities. "I would like to express my gratitude to the United Nations for its support. Our company has transformed into a significant source of employment, currently employing over 27 permanent staff members. Out of those, 20 are youth, and 10 of them are women." he said. He added, "We are actively seeking additional partners to facilitate the expansion of our company and provide employment opportunities for hundreds of youth and women, which is our primary goal." Located in Huye District in the southern part of Rwanda, the company has diversified into the plastic recycling business. It treats and processes between 400-600 tonnes of waste, producing materials that support agricultural activities in the region. Youth unemployment remains a devastating issue in Rwanda, as well as in many countries across Africa and beyond. It poses a significant challenge to sustainable development, economic growth, and social stability. Addressing this issue requires a comprehensive approach that involves the government, private sector, civil society, and international partners working together. Ozonnia Ojielo, the United Nations Resident Coordinator in Rwanda, states that various UN agencies in Rwanda are investing in vocational training and education to equip young people with the skills they need to succeed in the job market. He adds that education plays a crucial role in unlocking the potential of individuals and driving economic progress. "Let us remember that job creation is not just about numbers and statistics; it is about transforming lives and building a brighter future for all. It is about giving hope to the youth, empowering women, and ensuring that no one is left behind" "One area of focus is supporting the development of Small and Medium-sized Enterprises (SMEs). These enterprises are the backbone of any economy, providing a significant share of employment opportunities. We actively provide capacity building, access to finance, and technical assistance to help SMEs thrive and grow" Ozonnia added. He further mentioned that fostering an enabling environment for investment, innovation, and entrepreneurship will require collective efforts to create more job opportunities for future generations. "Job creation lies at the heart of sustainable development and is a fundamental driver of inclusive growth. It not only lifts individuals out of poverty but also contributes to social stability and economic prosperity. It empowers individuals, families, and communities, giving them a sense of purpose and dignity" The current statistics from the National Statistics of Rwanda, as per the labor force survey for the first quarter of 2023, show that the unemployment rate among youth aged 16-30 is 20.4 percent. This indicates that additional efforts will be needed to reverse this trend. In an exclusive interview, Cynthia Samuel-Olonjuwon, Assistant Director-General for Africa at the International Labour Organization (ILO), stated that youth unemployment in Africa is considered a driver of instability. She emphasized the importance of creating a conducive environment for the younger generation to work and thrive. "Some of them see wars as income-generating opportunities. They're easily radicalized and mobilized to be agents of destruction. We need to develop the skills that suit our economies. Governments need to put up policies and programs and an enabling environment for the youth to prosper". She said. To tackle this issue, the United Nations, in close collaboration with the government of Rwanda, has implemented various initiatives and policies aimed at promoting youth employment. These initiatives include enhancing vocational and technical training, developing entrepreneurship programs, and encouraging investment in sectors with the potential for job creation.