Story
Gender equality today for a sustainable tomorrow!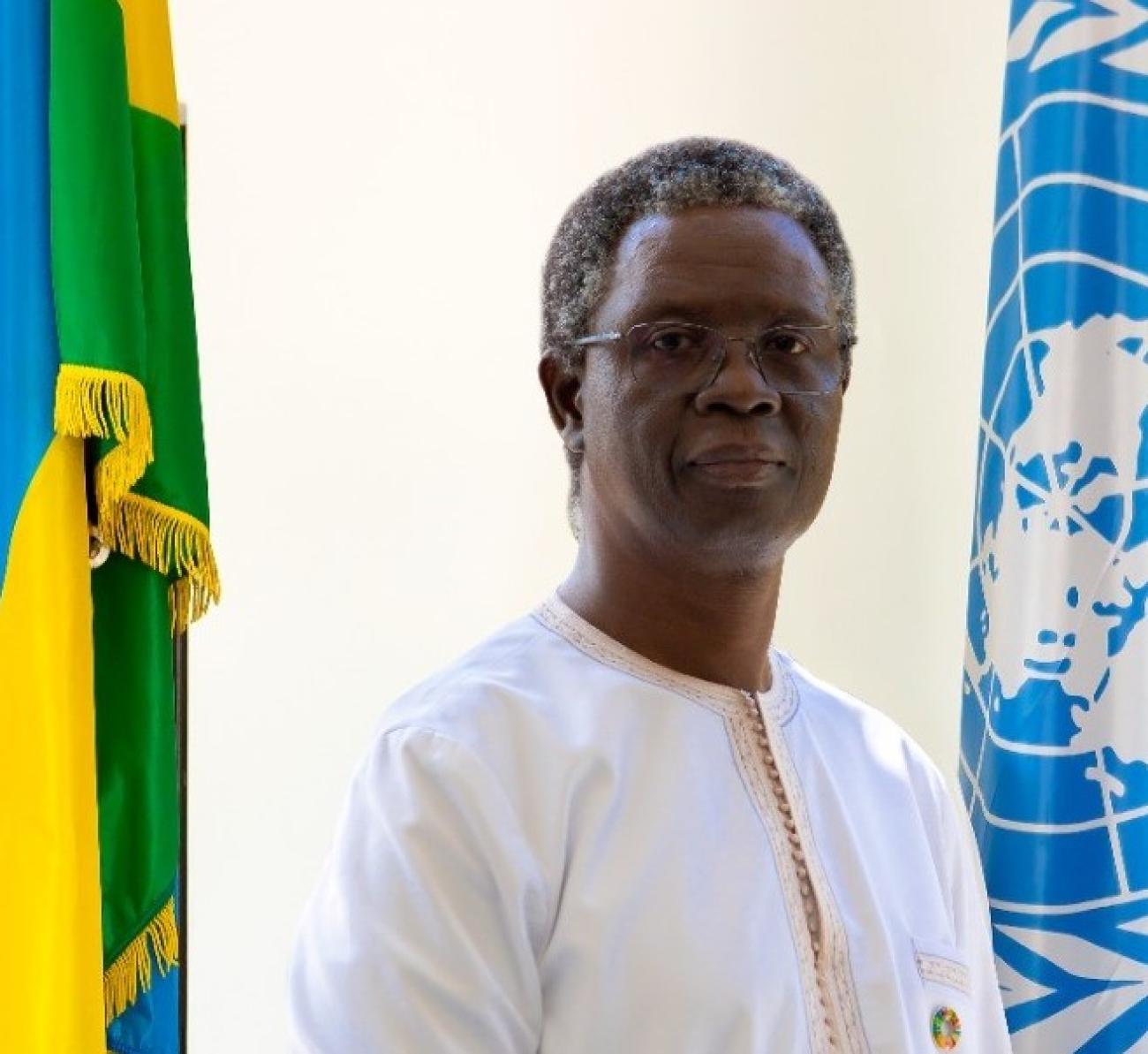 As we celebrate International Women's Month for 2022, I wish to acknowledge and pay tribute to all women and girls who have carried the torch of gender equality
Happy International Women's Month!
As we celebrate International Women's Month for 2022, I wish to acknowledge and pay tribute to all women and girls who have carried the torch of gender equality and women's empowerment while leading the change for a more sustainable and climate-resilient future for all, leaving no one behind. Let me also acknowledge boys and men who have been engaged in transforming our society! All the recognized or not HeForShes! Indeed, Gender equality and gender parity are not only a fundamental human right; but also, indispensable requirements in building a fairer, more inclusive, peaceful, safer, more resilient, and greener society. This requires a societal approach tackling all inequalities and the issue of power imbalance in leadership, management, access to resources and opportunities. The world is facing many challenges: COVID-19 pandemic, other diseases, climate crisis, conflicts and wars, quality of growth and inequalities. All have something in common: they all disproportionately negatively affect women and girls.
 In such a context, this year's theme "Gender equality today for a sustainable tomorrow" is aligned with the priority theme for the 66th Commission on the Status of Women (CSW66): "Achieving gender equality and the empowerment of all women and girls in the context of climate change, environmental and disaster risk reduction policies, and programs".  The CSW, as a key intergovernmental forum for gender equality, is instrumental in promoting women's rights, documenting the reality of women's lives throughout the world, and shaping global standards on gender equality and the empowerment of women. It provides us with the opportunity to take stock of progress achieved and what is lagging in the implementation of commitments on gender equality and women´s rights.
 Gender equality plays a catalytic role not just to transforming the lives of women and girls, but in accelerating progress toward the three dimensions of sustainable development- which are social, economic, and environmental. A robust set of internationally agreed norms and standards, such as the 2030 Agenda for Sustainable Development and the Maputo Protocol – "Protocol to the African Charter on Human and Peoples' Rights on the Rights of Women in Africa"-, guarantee comprehensive rights to women and girls and recognize that peace and development are inextricably linked with gender equality. Ensuring women's and girls' leadership and participation is vital if global efforts to tackle global challenges are to succeed.
 In Rwanda, 79 percent of women are employed in agriculture and majority of them in subsistence agriculture. Figures clearly highlight the enormous contribution of women as key producers for both their families, market and the country in general.
Women continue to increasingly become more vulnerable to climate stressors like temperature increase, floods and more frequent droughts affecting crop yields as well as hunger, nutrition, and loss of lives, than men, as they constitute the majority of the world's poor (in Rwanda, 39.5% of female headed households are poor vs. 37.8% of male headed households) and are more dependent on the natural resources which climate change threatens the most. The issues of climate change and sustainability have had and will continue to have, severe and lasting impacts on our environment, economic and social development.
The data provided by the National Institute of Statistics (NISR), Family Census (EICV3,4,5) indicate that the number of households using firewood for cooking has decreased from 85.3%% in 2010 to 78.2% in 2017 for men headed households while the number of women headed households slightly decreased from 88.5% to 84.7% for the same period. This calls for more effort to reduce this number further to avoid the negative effects of environmental damage but also diminishing the burden on women to fetching firewood for cooking as an activity culturally attributed to them and children in addition to other household chores.
The Government of Rwanda has demonstrated political will and commitment in mainstreaming gender equality and women's empowerment in all the development frameworks, including in the National Strategy for Transformation (NST1 2017-2024), both at central and local levels including developing climate-resilient settlements for families living in northern Rwandan areas prone to climate impact by supporting community-based adaptation planning and livelihoods diversification. The Government has also undertaken several measures to address climate change, ratifying the United Nations Framework Convention on Climate Change (UNFCCC) in 1992, developing a National Adaptation Action Plan (NAPA) in 2000, and adopting a green growth and climate resilience strategy (GGCRS) in 2011. Rwanda has been the first African country to submit its revised Nationally Determined Contributions regarding the Paris Agreement on Climate. The country continues to register significant gains not only in women's representation in leadership positions, but also leading on the numbers of signatories to the HeForShe campaign with over 200,000 men signing up as champions for gender equality. Last week, 9 companies have been awarded in the Gender Equality Seal and the private sector. Gender equality and women empowerment are also good for the business!
As stated by the UN Secretary General, Antonio Guterres, "It is time to stop trying to change women and start changing the systems that prevent them from achieving their potential.  Our power structures have evolved gradually over thousands of years. One further evolution is long overdue. The 21st century must be the century of women's equality."
We also commend Rwanda for considering gender, environment, and climate change as cross-cutting factors. Through good collaboration and partnership with the United Nations in Rwanda, operationalization of a robust disaster risk management framework has led to the realization of some key outputs, including elaboration of a National Disaster Risk Management (DRM) plan in 2013, contingency plans for heavy rains, floods and landslides, droughts, earthquakes, storms and acts of terrorism and district disaster management plans. Also, guidelines and checklists have been developed for mainstreaming disaster risk reduction (DRR) and disaster risk management (DRM) into the strategies of key sectors, and the national risk atlas of Rwanda published in 2015. Together, these outputs have improved the capacity for risk reduction and disaster management, especially in the public sector, and enhanced the coordination mechanism for DRR and DRM.
Rwanda's strong political commitment and institutional level of accountability for Gender Equality have enabled the women inclusion bringing the gender lens into climate and environmental policies which are critical to effective climate action. As this year's theme reminds us, women bear the brunt of climate change and environmental degradation. We must therefore be intentional in amplifying their voices as we gear towards this year UN Climate Change Conference (COP27) in Egypt in November 2022 but also, develop green jobs and build a more just and sustainable world. The Conferences: Commonwealth Heads of Government (CHOGM), Sustainable Energy for All (SEforALL) and the World Telecommunication Development Conference to be held in Kigali in 2022 will be opportunities for advocacy on the subject, including climate and environment, socio-economic needs, digital revolution among others in addition to the just concluded in Kigali of the 8th Africa Regional Forum on Sustainable Development which also look at SDG5 on Achieve gender equality and empower all women and girls.
The United Nations has been a key partner of the Government of Rwanda and has built strong partnerships with the civil society, the private sector and development partners, serving as a hub for knowledge and technical expertise in gender equality and women empowerment issues. It is worth noting that UN has achieved gender parity at senior level including at Resident Coordinators' level and in Rwanda women represent 52% of the Heads of Agencies. However, "the entire United nations must be realigned to deliver for women and girls" (UN SG), in coordination with the Governments, the CSOs, the private sector and other development partners. Five areas are considered by the SG's common agenda: (1) repeal all discriminatory laws and policies; (2) achieve equal participation of women in all sectors and at all levels in decision making; (3) invest in women's economic inclusion and address unpaid care work: (4) center the voices and leadership of young women; (5) implement a plan to end all forms of violence against women and girls.
I applaud all men and boys who strive alongside women and girls for a more gender inclusive society and societal gains and opportunities. So, let us, day and night, leverage data, education, knowledge, innovations, sustainable finance, partnerships, to build new transformative mindsets, behaviors, cultural and societal approaches, to open more the sky of possibilities, to women and girls, make gender inequality history and women's empowerment the new reality and norms, so that the world be better for everyone, everywhere, leaving no one behind. It is in our hands to be the Generation equality as we pledged again in Paris and Mexico, by doing more, differently, and better, in a whole-of-government and whole-of society engagement. The UN is very proud to be your trusted partner in this exhilarating journey! You can count on us! We can count on you to continue strengthening this strong coalition which will win, whatever the obstacles are!
Turi kumwe! Abishyize hamwe ntakibananira!
Written by
Maureen Twahirwa
RCO
Communication and Advocacy Officer
UN entities involved in this initiative
RCO
United Nations Resident Coordinator Office
UN Women
United Nations Entity for Gender Equality and the Empowerment of Women
Other entities involved in this initiative
RWA NISR
Rwanda National Institute of Statistics Rwanda