Story
Tackling teenage pregnancy in Rwanda with youth-led innovation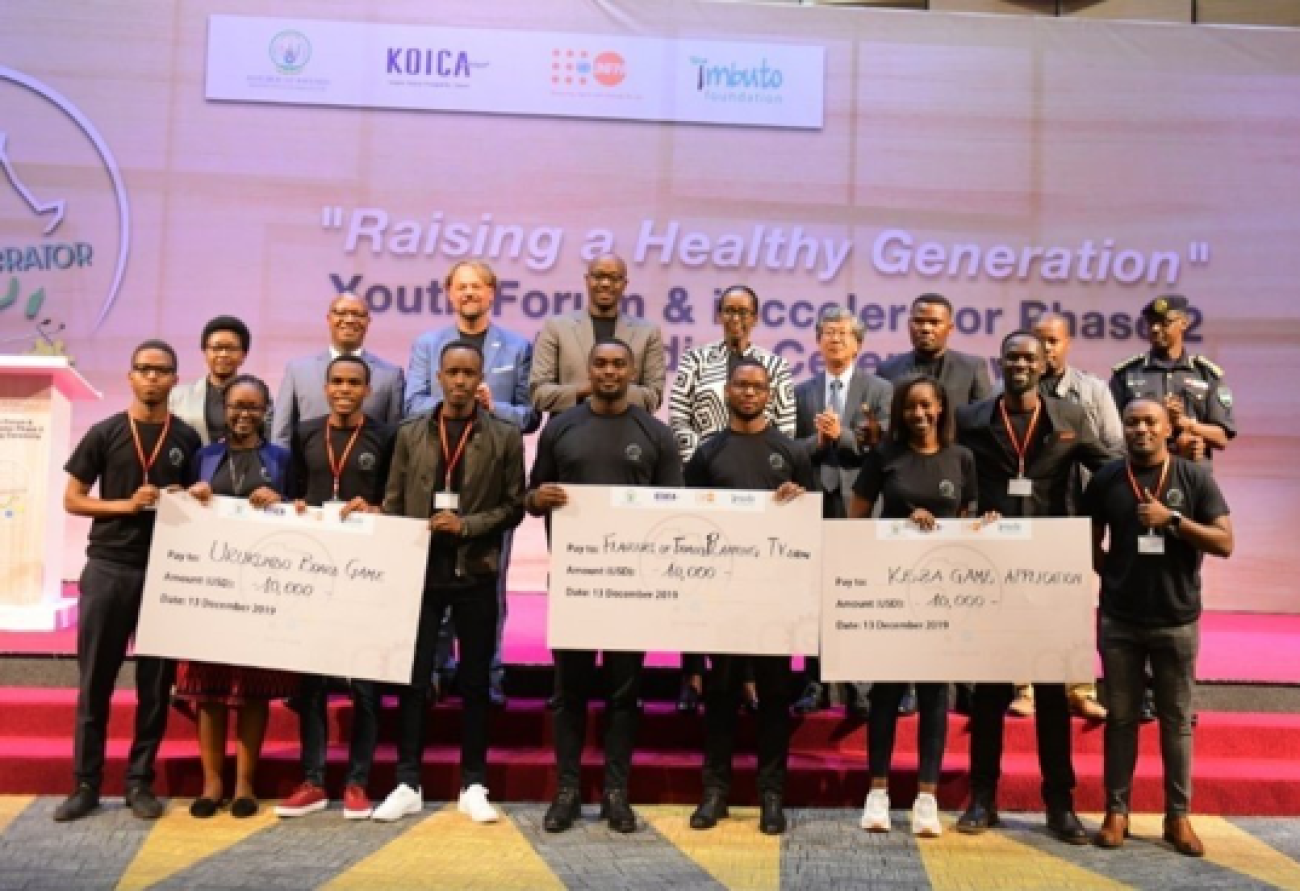 UN and partners foster creative solutions for youth in Rwanda to adopt healthy and safe attitudes & behaviors
Imbuto Foundation, the Rwanda First Lady's Foundation, United Nations Population Fund (UNFPA), the Ministry of Youth and Culture, with the support of the Korea International Cooperation Agency (KOICA) fostering creative solutions for youth in Rwanda to adopt healthy and safe attitudes & behaviors.
The Awarding Ceremony of the Innovation Accelerator (iAccelerator) Phase II took place at Intare Conference Arena, Kigali. Under the theme: "Availing adolescent sexual reproductive health information & services as a way of preventing teenage pregnancies" iAccelerator Phase II is being implemented by Imbuto Foundation in partnership with the UNFPA.
Following the pitching of the top 10 solutions to teenage pregnancies in Rwanda, the 3 best solutions were awarded during the "Youth Forum Series," which opening was officiated by H.E the First Lady of Rwanda Mrs. Jeannette Kagame.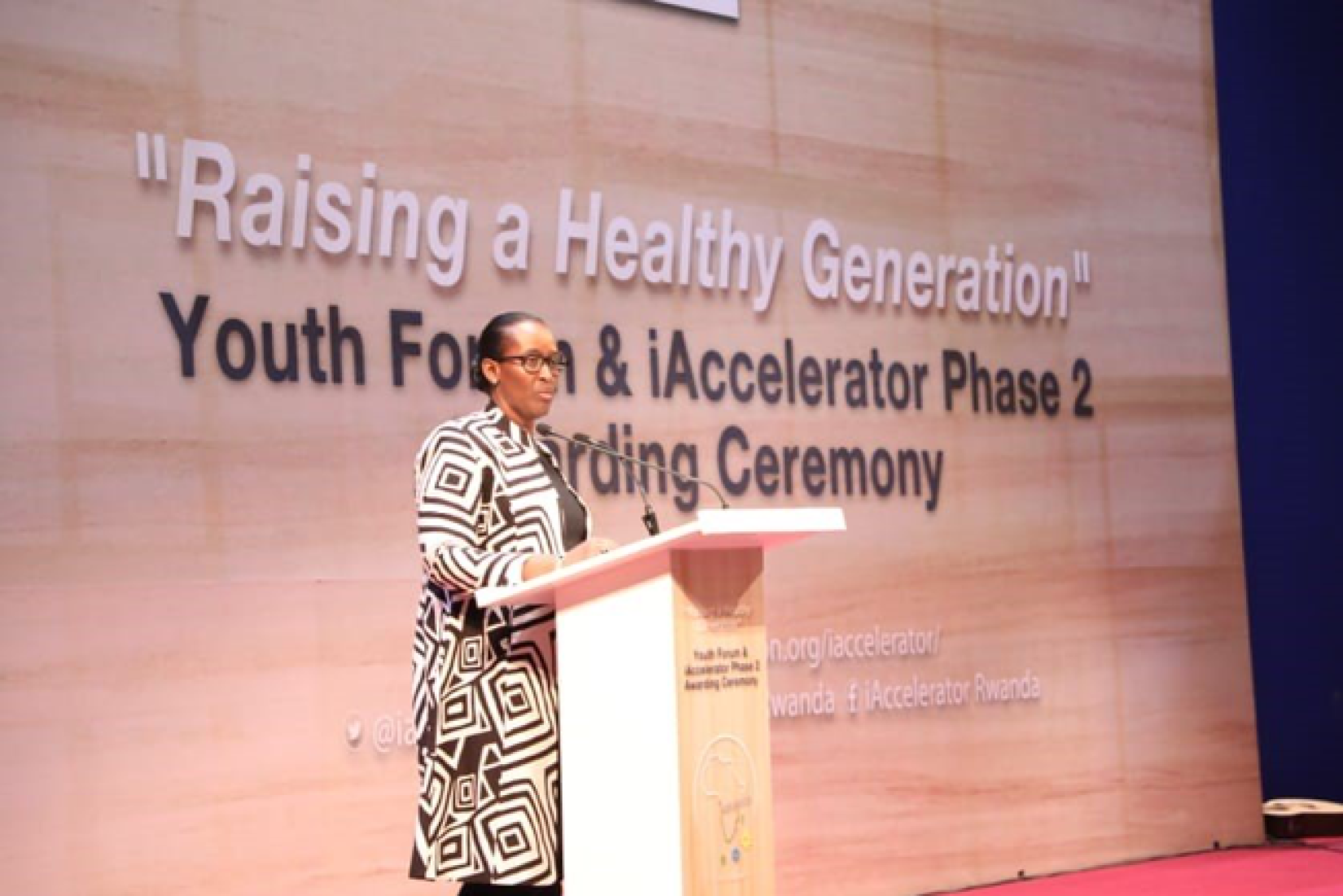 Addressing around 600 youth, parents, leaders and partners at the Youth Forum, HE The First Lady of Rwanda stated that challenges that the youth face, including drug abuse and teen pregnancies, need to be discussed collectively, and encouraged partners and stakeholders to continue to work together and support innovative programmes such as I Accelerator.
"Excessive use of drugs and teen pregnancies are both a public health concern and family' challenge. I commend you for your contribution to programmes, such as the Innovation Accelerator. Your work with us, is a significant contribution to our national efforts, in empowering youth in Rwanda" she asserted.
The teenage pregnancy rates in Rwanda have increased from 6.1% in 2010 to 7.3% in 2015 (RDHS 2015). Furthermore, 49.6% of teen mothers had their first pregnancy between the ages of 12 and 17.
In line with Government priorities to fight the issue, iAccelerator Phase II employs social entrepreneurship to tackle teenage pregnancies by encouraging young people to think critically and creatively about issues related to their sexual and reproductive health and rights.
"The UN believes it is critical to invest in youth-led innovation by providing targeted & enabling support to youth-led organizations & initiatives to pilot new models & interventions to ensure that we do indeed raise a healthy generation" Said Fodé Ndiaye, UN Resident Coordinator in Rwanda.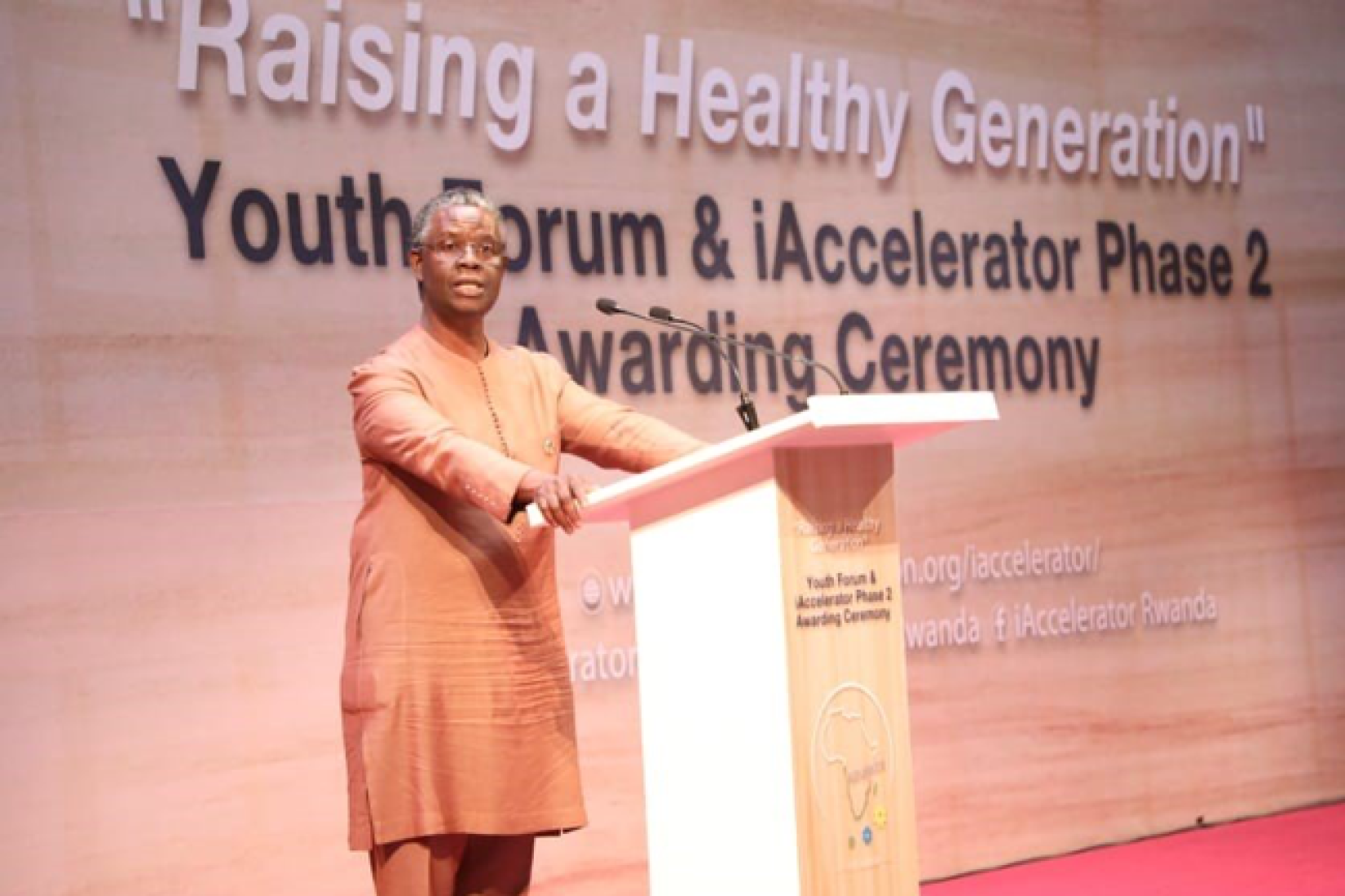 Encouraging young people to innovate creative solutions to advance Sexual & Reproductive Health.
The Innovation Accelerator, first launched in 2016, is an initiative and model aiming at exploring new and engaging ways to tackle pressing population challenges in the country while promoting social entrepreneurship among young people.
The iAccelerator Phase II started on the 20th of September 2019 during the official Launch and continued as the application phase was open for a month, followed by the pitching of the pre-selected top 40, and a Boot camp training for top 10. The final pitching of the top 10 took place on the 12th of December, the day before the awarding ceremony.
The top 3 innovative solutions were awarded 10,000 USD each as seed capital for their businesses to support the development of prototypes. The winners include "Keza Game Application", an edutainment game that encourages positive attitudes and behaviour towards adolescent sexual reproductive health using a character named, "Keza", "Urukundo Board Game", an interactive game and informative pack consisting of a booklet and a game tool with Adolescent Sexual Reproductive Health messages, and "Flavours of Family Planning TV show", a show focusing on male engagement in family planning by using kitchen materials for simulations. The finalists will start their incubation and mentorship programme in early 2020.
The iAccelerator programme will run annually from 2019-2022 in partnership with KOICA and national partners.
UN entities involved in this initiative
UNFPA
United Nations Population Fund