Story
Rwandan Businesswomen connect with Finnish counterparts through UN Women to reach markets across borders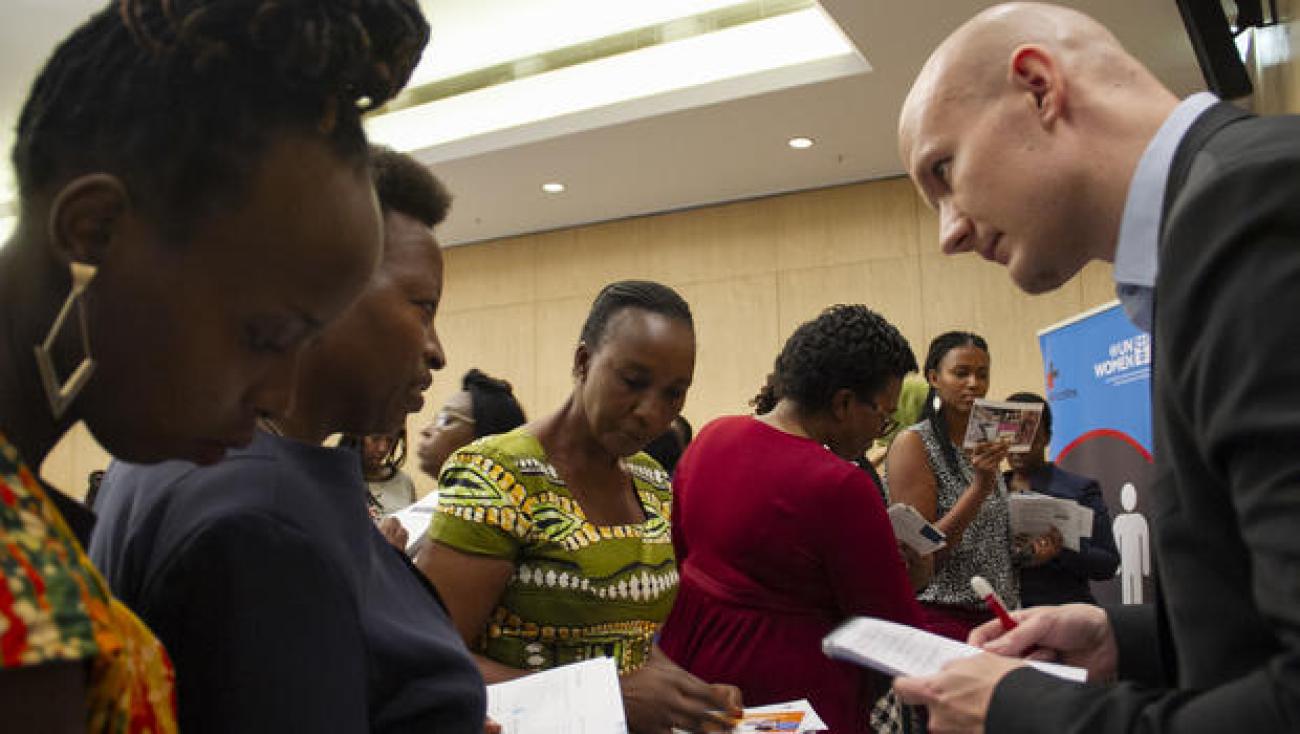 The Ministry of Trade and UN Women will build on activities to effectively empower women in business and encourage Made in Rwanda products.
In increased number of women are venturing into business with innovative ideas and breaking into male-dominated sectors such as ICT. In Rwanda, facilitated by gender-sensitive public policies, women presumably face no barriers in engaging in any economic activity, and their contribution to the economy appears to be valued and promoted. This however isn't always the case. Once in the sector, these businesswomen often have to battle dated but existing discriminatory beliefs that build hidden barriers such as the lack of access to finance, inadequate information or weaker networks. Barriers faced much less by their male counterparts.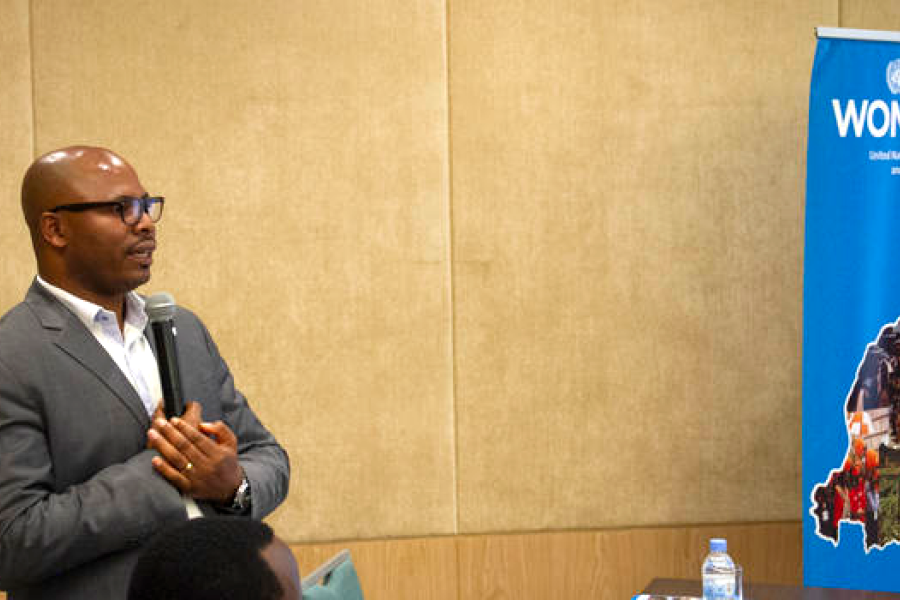 Aiming at opening new opportunities and markets for businesswomen in Rwanda, UN Women in collaboration with the Finnpartnership and national partners, including the Ministry of Trade and Industry, the Private Sector Federation and New Faces New Voices, co-hosted the first "Women-Only Seminar" to empower female entrepreneurs, by establishing communication channels between Finnish and Rwandan companies, with the aim to build profitable partnerships and enabling Rwandan women entrepreneurs on seizing the opportunities of international value chains, mainly in the sectors of Education, ICT and Handicraft & Design.
"Through match-making we look into expanding and connecting to a larger market". Pierra Ntayombya, CEO of one of the most famous Made in Rwanda clothing lines, Haute Baso, emphasized her view on the obstacles women entrepreneurs face, and hopes that these will be addressed through platforms such as these that enable them to meet with potential business partners, from across the world.
Opening the Seminar, the Director General for Planning and M&E in the Ministry of Trade and Industry (MINICOM) emphasized that Rwanda's Vision 2020 should be "private sector-led", spearheaded by competitiveness and entrepreneurship and that the participation of women was paramount and should be fostered. Currently only 44% of women in Rwanda actively contribute to the country`s labor force[1]. A number reflecting the urgency to further empower women, especially in formal employment sectors. He also indicated that the experience sharing and match making between Rwanda and Finland was a great contribution to the country's vision for sustainable development.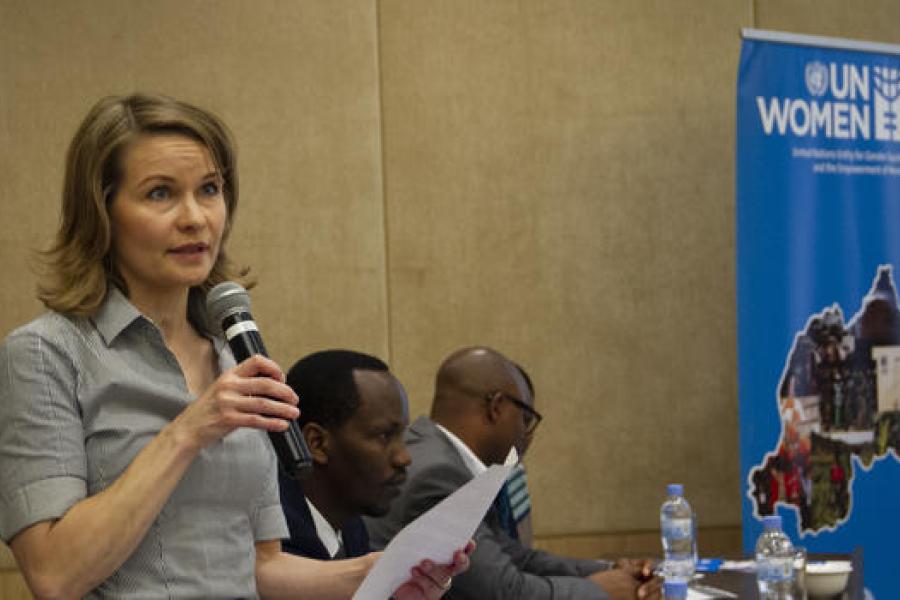 Finland shares many similarities with Rwanda, both hailed as gender equality champions, the two countries harbour private sector-led approaches to development and can be considered relatively young economies. Speaking on behalf of the Finnish Ministry for Foreign Affairs, Miia Haavisto mentioned in her concluding remarks that
"The Seminar provided these women entrepreneurs with information and visibility that they wouldn't otherwise have, and offers them a great opportunity to find partners and to scale up their businesses towards internationalization".
The matchmaking event was hailed by young and motivated entrepreneurs like Priscilla Ruzibuka, Founder of a thriving garment company for Kids, Kipepeo, as a critical platform for addressing some of the persisting barriers that entrepreneurs face. "Rwandan women entrepreneurs often lack information, a lack that this partnership could address by creating synergies which will create further collaboration and flow of information that will help the young entrepreneurs like myself achieve their dreams" she explained.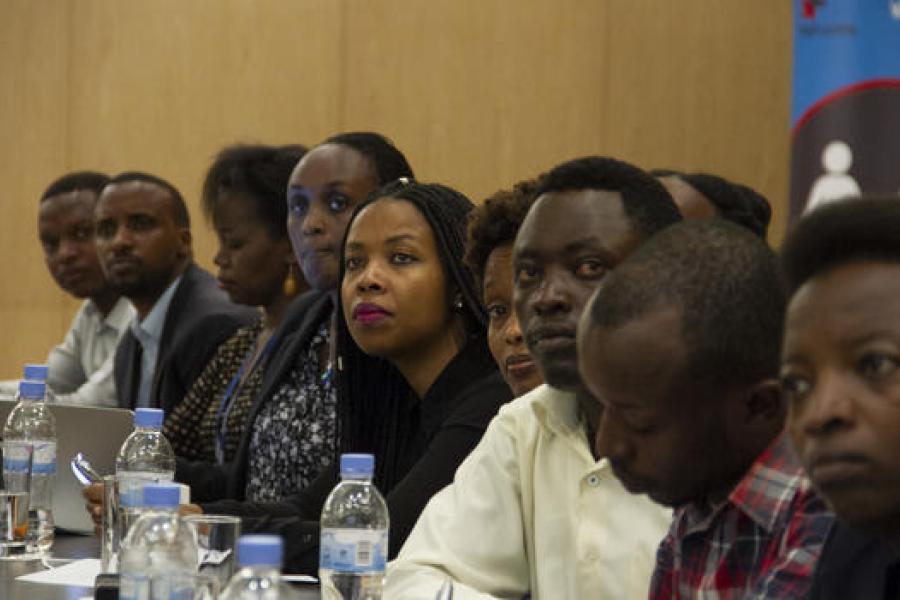 Indeed, ensuring that women are part and parcel of the expanding private sector is a key priority for UN Women, one of the co-hosts of the event, as shared by Mr Schadrack Dusabe, National Programme Specialist at UN Women:  "I think there is a high value in capitalizing on and exchanging good practices and information in order to advance local female companies. Bringing together Rwandan women entrepreneurs and Finnish companies gives an excellent opportunity to also upraise some of the challenges women entrepreneurs still have to face in terms of access to finance, technical capacity, markets, and business opportunities."
Speaking on behalf of the businesswomen and the Vice Chairperson of the Chamber of Women Entrepreneurs, Ms Sarah Kirenga, expressed the appreciation of the Chamber and of Rwandan business women in particular, for the success of the Seminar, foreseeing fruitful future collaboration, optimistic that the match-making will foster long-lasting partnerships that will contribute to closing the economic gender gap.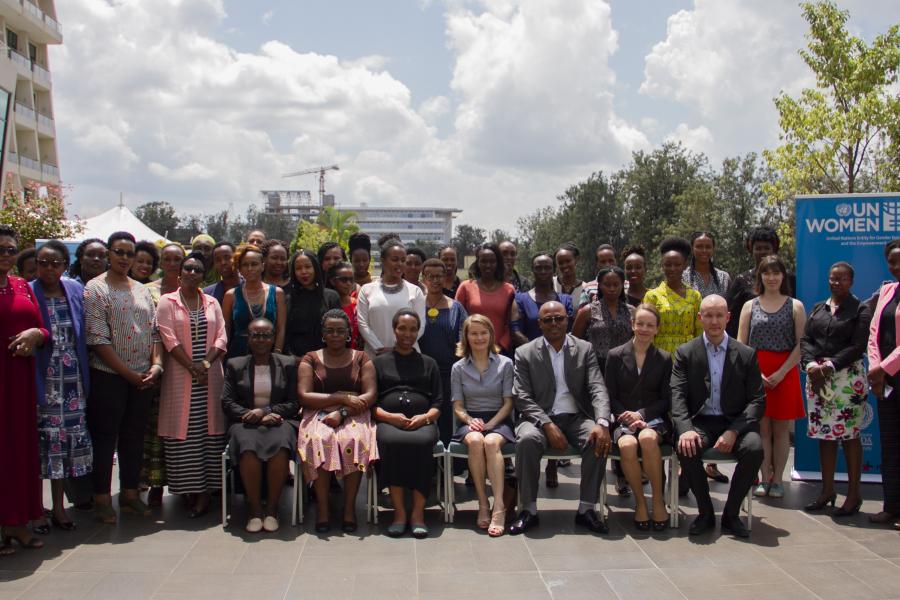 In the framework of the National Export Strategy aiming to enhance inclusive economic transformation, the Ministry of Trade and UN Women will build on similar activities to effectively empower women in business and encourage Made in Rwanda products beyond the country's frontiers.
UN entities involved in this initiative
UN Women
United Nations Entity for Gender Equality and the Empowerment of Women