The United Nations in Rwanda congratulates the World Food Programme (WFP) for the 2020 Nobel Peace Prize award
UN Rwanda congratulates WFP for the award in recognition of their work to end world hunger as a critical first step towards achieving lasting peace & stability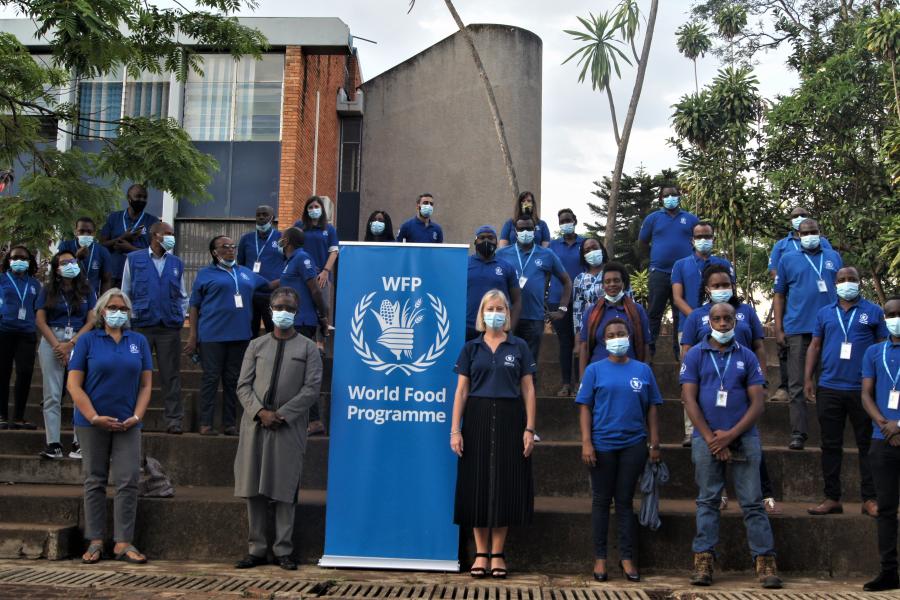 Photo | WFP - Rwanda
The United Nations in Rwanda congratulates the World Food Programme (WFP) for the 2020 Nobel Peace Prize award in recognition of their work to end world hunger as a critical first step towards achieving lasting peace and stability. "I am proud of the work done by our WFP colleagues under the leadership of Edith Heines, WFP Rwanda Representative, which has contributed to the acknowledgment of WFP's work across the world to save lives and change lives of the most vulnerable.  This is a recognition of the tireless efforts of staff who often lay their lives on the line to bring food and assistance to close to 100 million hungry children, women and men across the world- people whose lives are often impacted by instability, insecurity and conflict. It is also a call for action because 690 million globally continue to face hunger which is on the rise, including with COVID-19" said Fodé Ndiaye, the United Nations Resident Coordinator in Rwanda.  
The United Nations in Rwanda is proud of WFP for its work contributing to the government's efforts in achieving food security. "In Rwanda, WFP's work spans the humanitarian-development peace nexus," noted Edith Heines, WFP Rwanda Representative.
Nearly 140,000 refugees in Rwanda receive humanitarian food and nutrition assistance each month from WFP. This assistance is primarily through cash-based transfers which enable refugees to purchase the food of their choice at local markets in and around camps and improves their dietary diversity and supports the local economy.
"WFP in Rwanda works together with the Government, One UN partners, NGOs and other stakeholders at all levels to strengthen food systems against increasing volatility and climate shocks. WFP strives to deliver affordable and sustainable healthy diets for all and improve farmers' livelihoods throughout the entire food value chain," Edith noted.   WFP together with One UN partners in the UN Joint Programme on nutrition supports the government in their efforts to radically reduce rates of stunting in Rwanda. 
WFP works with the most vulnerable communities in five districts to develop climate-resilient shock-responsive community assets, such as land terraces, rehabilitated marshland, and improved small-scale irrigation systems. In conjunction with WFP's Farm to Market Alliance (FtMA), which aims to make agricultural markets work better for smallholder farmers, cooperatives receive training on improving the quality and quantity of their crops and are linked to private companies to sell their quality harvests at premium prices. 
These harvests enable local procurement of fresh foods to the Government's National School Feeding Programme. Through FtMA, WFP promotes a more structured agricultural trade between border communities of the Democratic Republic of the Congo and Rwanda to sponsor lasting peace and stability on both sides of the border.
"This Nobel Peace Prize is a testament to the strong partnership and collaboration that WFP has with the UN family, including in Rwanda, as well as with governments, development partners, the private sector - all who have a passion for assisting the hungry and most vulnerable and leaving no one behind" the Resident Coordinator added. The RC thanked all donors for their contribution and reiterated the necessity to enhance the coalition to end hunger and achieve the SDGs.
UN entities involved in this initiative
Goals we are supporting through this initiative